Simplify Student Life With 15% Off Student Storage
Make space in your dorm room or store your stuff on school breaks
There's no reason to add to the stress of school. Co-op placements, semesters, and visits home can vary in length. With the unpredictability of student life, we don't expect you to sign long-term contracts or overpay for student storage space. With NationWide's student storage units, you'll have access to short-term, long-term, and summer storage to ensure you only pay for what you need.
With our competitive rates and a wide variety of storage locker sizes, you'll have a self-storage experience tailored to you. Avoid taking on the stress between semesters and store with NationWide – a company that prioritizes storage for students and your peace of mind. We proudly provide student storage in Vancouver, Burnaby and Kamloops.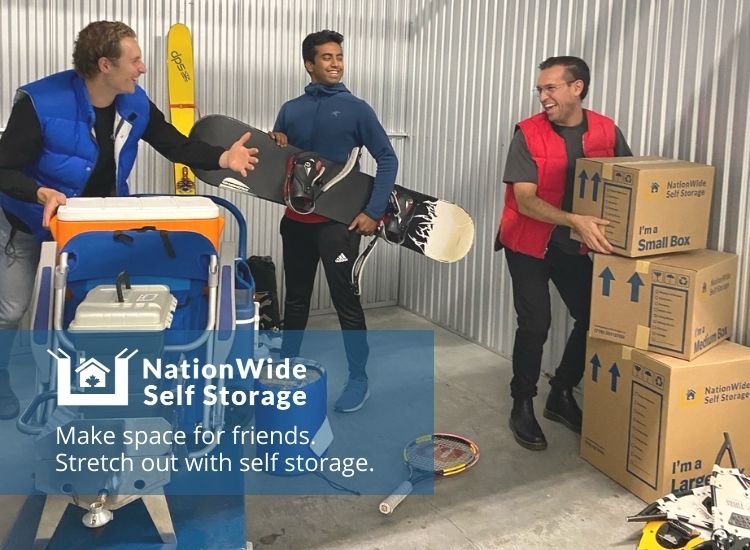 Benefits of Student Self-Storage
Storing your belongings with NationWide comes with many perks, including:
Daily Access and Extended Hours. Student schedules can be unpredictable, especially at the tail end of a school semester. We offer unlimited daily access from 6am to 10pm. If you need 24-hour access, just reach out to our team!
Affordable Solution. Life can be expensive for students. To help minimize the costs, you can save 15% on your student storage with NationWide, with a valid college student ID.
Flexible. No matter how long or short your storage timeline is, our month-to-month rental options ensure you only pay for the storage you need. We also offer a variety of unit sizes to accommodate any storage volume – with the option to upgrade or downsize if required.
Security Self Storage. To guarantee the safety of you and your belongings, our storage facilities are monitored using over 70 CCTV surveillance cameras, on-site personnel, and enterprise-level smart access to our gates, loading bays, elevators, and lockers.
Central Locations. Our storage units in Vancouver and Kamloops are easily accessible by transit, bike, and car. Centrally located, we minimize the distance between our facilities and your destination.
Keyless Smart Access. Our self-storage units feature a state-of-the-art keyless locking system controlled by an app on your phone (or with a fob if you prefer). So, you don't have to worry about keeping track of keys and codes during your break from school. Share and revoke access to allow friends, family, and roommates enter your unit and monitor locker visitations – all from your smartphone.
Convenience. Need boxes, tape, and other packing materials? How about a trolley to help transport your belongings from the parking lot into your storage unit? To help make your move as stress-free as possible, we offer free loading carts and dollies with a covered unloading bay to protect you from the elements.
Student Storage in Vancouver, Burnaby & Kamloops
Student storage can help:
Students attending colleges, universities or trades schools in Vancouver, Burnaby or Kamloops.
Storing belongings during summer holidays or co-op placements.
Decluttering your space of old textbooks, school supplies, and unused furniture.
Bike storage or sporting equipment storage.
Students needing central and easy-to-get-to storage units in Vancouver, Burnaby and Kamloops.