Make room to grow with
family storage solutions
Choose the best for family storage
As your family grows, so does the accumulation of belongings. Living in too much clutter can be overwhelming, limiting the space you have to enjoy one another's company and engage in family activities. Not to mention how much your needs change as your children get older. From growing out of baby clothes to picking up new hobbies to moving out of the house, your house can only hold so much stuff.
Our storage solutions are flexible to match the ever-changing needs of your family. If it's time to free your family – and home – of unnecessary clutter, NationWide has the space for you.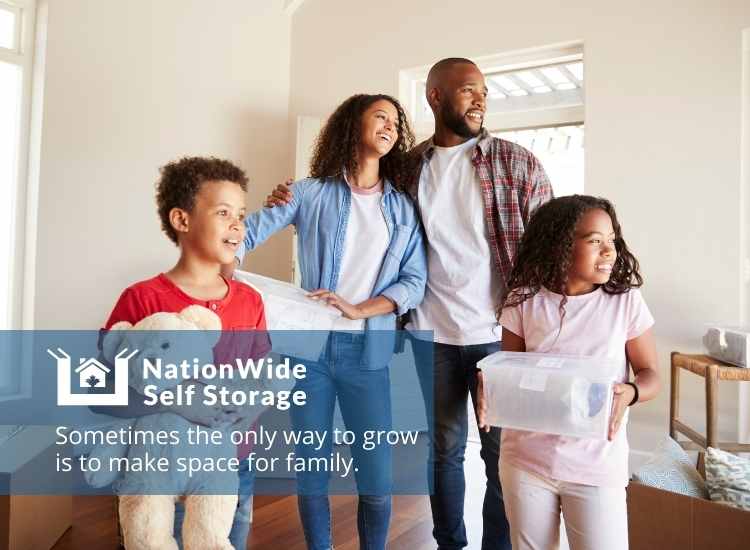 Benefits of Family Self-Storage
Every family accumulates more than they bargained for. To help control the clutter and optimize your home to make room for family memories, storing with NationWide comes with benefits such as:
Extended Access Hours. We offer extended hours to prioritize your convenience and schedule. Visit your storage unit in Vancouver or Kamloops anytime between 6am and 10pm or speak to one of our storage experts about 24-hour access.
Flexible Contracts. Life with a family can be unpredictable. As such, we don't expect you to agree to any long-term contracts when it comes to family storage. Our monthly storage is flexible: from the rental length to the unit size, we'll adjust our storage solutions to ensure your family's needs are met.
Security. Our facilities are monitored 24/7 with over 70 CCTV surveillance cameras, on-site personnel, and enterprise-level keyless locks on all our doors.
Insurance. Give your belongings that extra dose of protection. For a nominal charge, insurance coverage is provided to protect the contents of your self-storage unit.
Keyless Smart Access. Our units are equipped with a state-of-the-art keyless locking system controlled by an app on your phone (or with a fob if you prefer). This keyless Smart Access system allows you simple and secure access, complete monitoring of who enters your unit, and is shareable with friends and family.
Convenience. Need help transporting your belongings from vehicle to unit? To help make your move as stress-free as possible, we offer free loading carts and dollies at our facilities. And our covered loading bay will protect you and your items from the elements as you move into your new storage unit.
Family Storage can help you:
Storing belongings when moving, downsizing, or renovating
Decluttering your home of unused items
Storing toys, clothing, and furniture that your children have outgrown
Seasonal storage of sporting equipment, gear, and holiday decorations
Keeping belongings safe when spending time away from home
Families wanting more space for activities
Safekeeping of family heirlooms, photographs, and memories