Peace of mind with climate
controlled self storage
Optimized storage conditions
Decluttering your space is essential, but it's no use if the well-being of your items is compromised. NationWide offers climate-controlled storage units in Vancouver, Burnaby, Surrey and Kamloops to keep your fragile valuables in pristine condition.
Our climate-controlled units maintain a temperature of 10° Celsius throughout the winter to protect the state of your belongings. With the influx of high and low temperatures throughout Vancouver, Burnaby and Kamloops, climate-controlled units are crucial to maintaining optimal conditions for your valuables.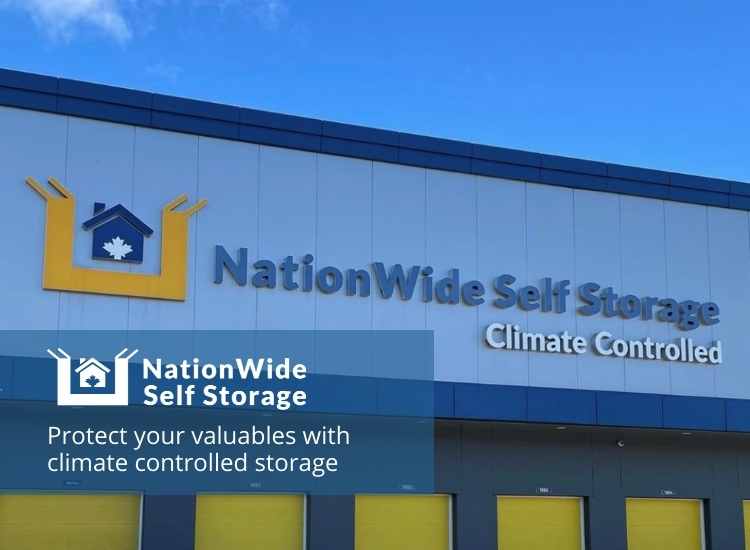 Benefits of Climate-Controlled Self Storage
Along with peace of mind climate-controlled storage provides, some other benefits include:
Protection from extreme temperatures. BC can experience drastic temperature changes. Climate-controlled storage ensures that the interior of your units maintains a consistent temperature to protect your belongings from damaging effects. Items sensitive to extreme temperatures, such as wood furniture, antiques, and musical instruments, could experience warping, cracking, and splitting if exposed to changing conditions. And the integrity of books, business documents, fine art, and technology could be compromised in too high or low of temperatures. Ensure that your valuables remain in peak condition by choosing climate-controlled self-storage.
Controlled humidity levels. Fluctuating humidity levels can severely affect the stability of your stored items. Climate-controlled storage units, with their consistent humidity control, stand as a safeguard against these fluctuations. Especially when storing in the damp climates of British Columbia, any seasonal variations can cause irrevocable damage to valuable and sensitive items, such as antique furniture and musical instruments. Excessive moisture promotes mould growth, while low humidity can dry out and splinter wood. But with climate control, your items can maintain their integrity in a consistent environment.
Protection from dust and debris. Our climate-controlled storage in Vancouver and Kamloops is entirely sealed off, with insulated roofs, walls, and floors as added protection for your valuables. Therefore, the enclosed nature of these units adds an extra layer of protection for your items. So, there's no need to worry about outside dust and debris finding their way into your climate-controlled self-storage unit when storing with NationWide.
Improved Air Quality. Air quality is a crucial, often overlooked factor when choosing a storage unit. Unlike standard units, our climate-controlled storage facilities are designed to maintain specific temperatures, resulting in continuous air circulation. This ensures the air remains fresh and clean, protecting sensitive items such as electronics, artwork, books, and business records from damage due to excess moisture and unstable humidity levels.
Peace of mind – priceless! Knowing that your valuables are safe and preserved in a stable environment is invaluable. Whether your stored belongings have a high monetary value or priceless sentimental value, you can rest assured knowing your items will be clean, safe, and protected. You can sleep comfortably knowing you've protected your precious items from harsh seasonal changes and weather-related mishaps.
Climate-Controlled Self Storage Can Help You With…
Furniture storage made from wood, leather, metal, wicker, or upholstery
Electronics
Artwork
Musical instruments
Media (DVDs, vinyl records, CDs, etc.)
Antiques
Collectibles (stamps, coins, comic books, etc.)
Paper documents and photographs
Sports equipment like inflatable SUP paddleboards that can deteriorate with fluxing temperatures
Medical supplies and equipment
Season tire storage
Wine storage
Toiletries, cosmetics, and hair products