Affordable Sky Lockers
Your Mini Storage Unit In The Sky!
Need just a pinch of space for those smaller items or boxes lying around your house or office? Consider NationWide's affordably priced Sky Lockers. These mini storage lockers are half the size (height) of the average self storage unit. They are typically 4′ high, but have the same length and width of a full size self-storage unit.
They are situated on the mezzanine level, on top or above a full size unit. The locker or mini storage unit is accessible with a rolling staircase. which makes them perfect for storing lighter items that one person can carry up the stairs.
Big Space For A Small Price
This economical mini storage unit is perfect for storing luggage, sports equipment, seasonal décor, or boxes. Can you carry it up a set of stairs? If so, save yourself some money and try a Sky Locker today!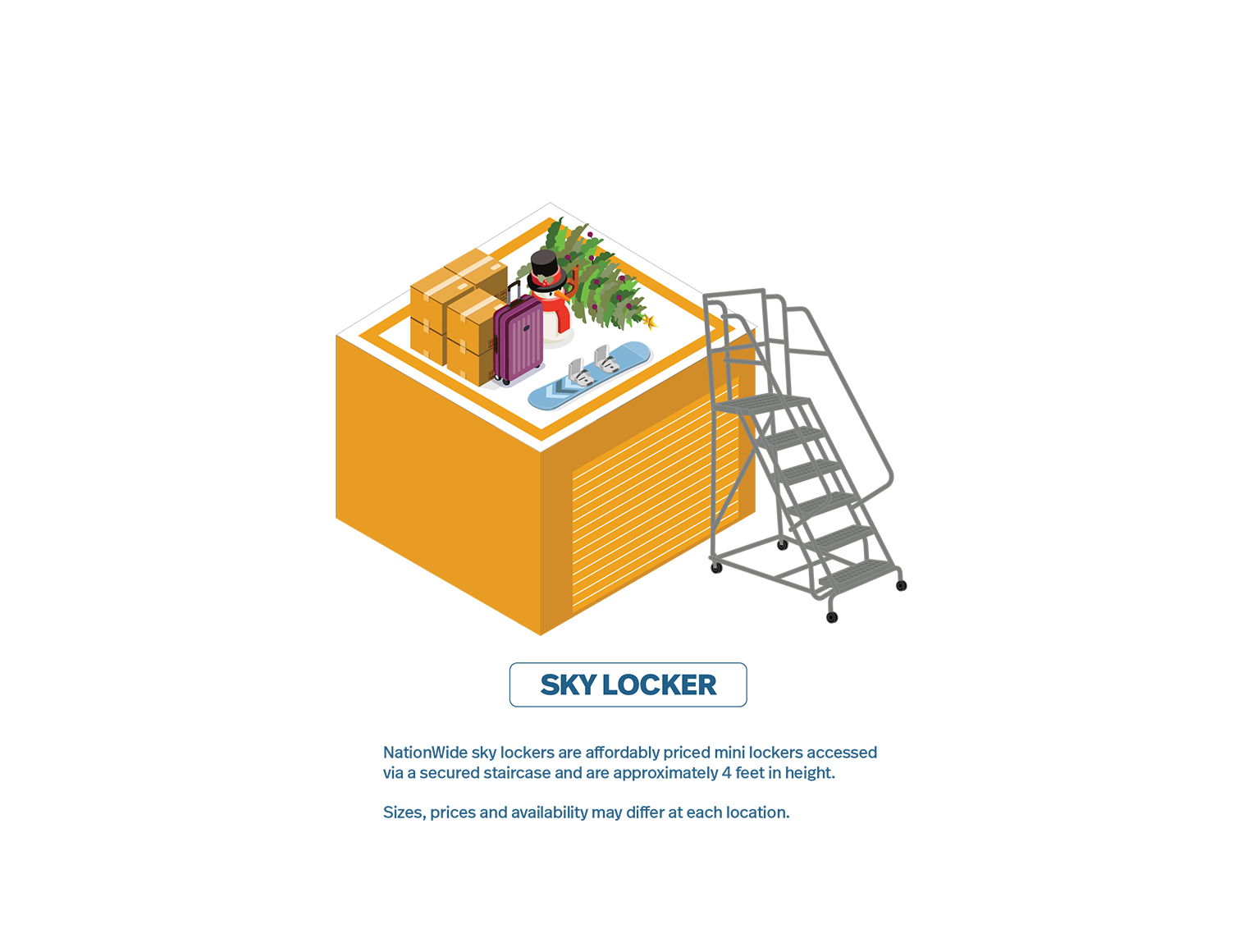 How big is a sky locker/ mini storage unit?
Sky Lockers are sometimes referred to as mezz units' or a mini storage. At NationWide Self Storage our Sky Lockers are typically 4 feet in height and range from popular 5×5 to 10×10 storage unit sizes (ranging from 25-50 square feet per unit). The floor space of this unit is roughly the size of a small walk-in closet or bathroom but with a reduced height of 4 feet in height.
While heavy furniture is not recommended, these sky lockers offer plenty of packing room for boxes, snowboards, skis and seasonal sporting goods.
What fits in a 5×5 storage unit?
A 5×5 sky locker can fit anywhere from 30-150 boxes and luggage. Need a place to store your skis? Sky Lockers are perfect for snowboard storage, paddleboard storage or ski storage.
How much does a sky locker cost?
The rental fee for a 5×5 sky locker starts as low as $69 per month and varies at each location. Other factors determining the month's rent are the time of year and the length of time that the storage unit is needed.
To find locker prices at each location, start by searching for a NationWide Self Storage facility near you or feel free to call one of our storage experts at NationWide Self Storage to discuss what would work best for you.
Convenient locations with a 5 by 10 storage size unit
Are you trying to find self-storage facility that offers easy access, a convenient location, and is a great place to safely store small to large items? Consider renting a 5×10 storage unit. We have 3 locations for our self storage, choose the one that is closest to you: