How Big is a 10×10 Storage Space?
Measuring at 10 feet in both width and length, a 10×10 storage unit totals at 100 square feet. With 800 cubic feet of space, this unit is comparable to half of a standard one car garage. One of the most popular choices for indoor storage, a 10×10 storage unit can store the contents of three average sized rooms or two large bedrooms.
For similar dimensions with a little extra room, we'd recommend checking out our 10×12 storage units totalling at 120 square feet. Our 10×12 unit sizes provide even more space to store large boxes, furniture, and random belongings to effectively declutter those cabinets.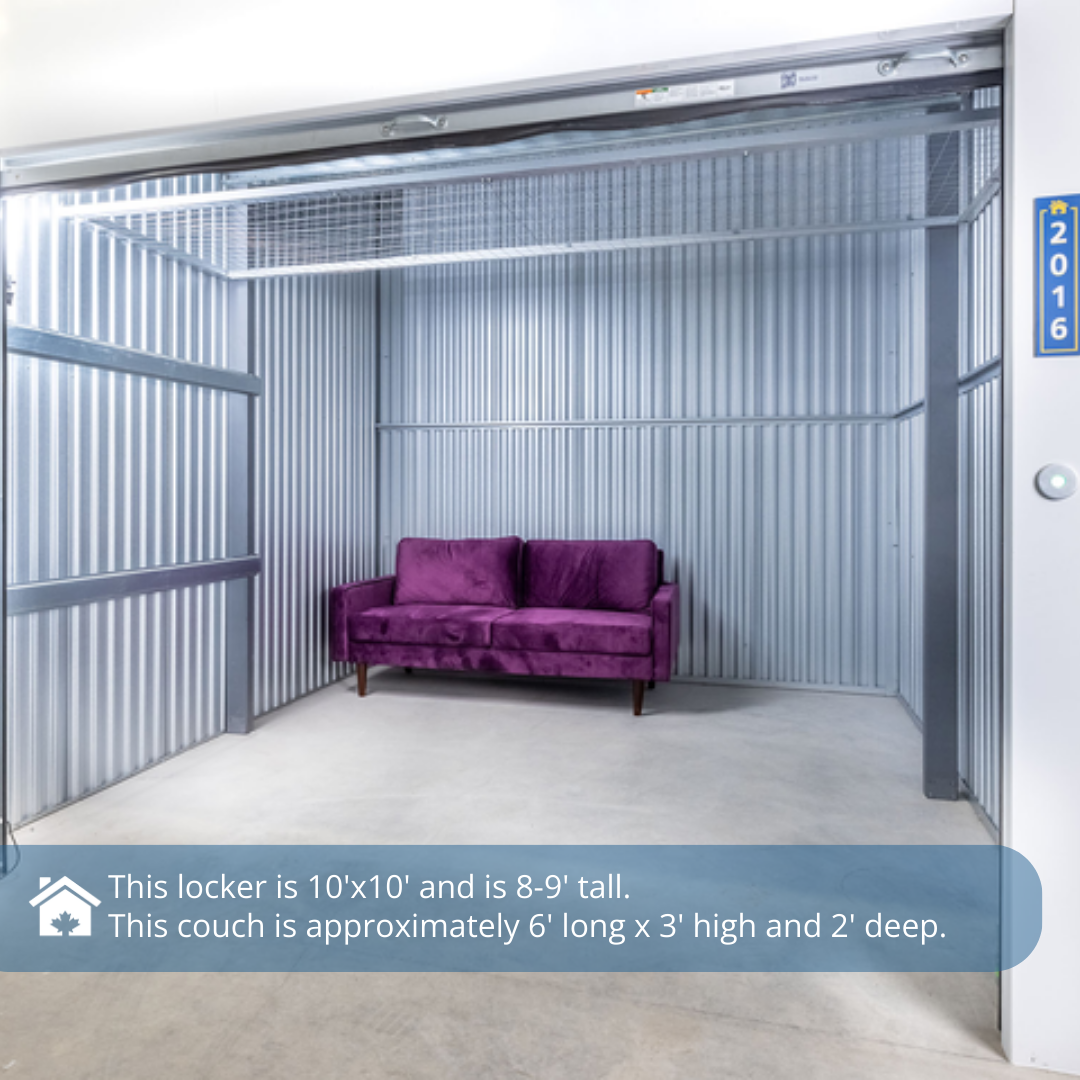 What Fits in the Size 10×10 Self Storage Unit?
Whether you're moving to a new living space, completing home renovations, or are simply wanting to free up some space in your house or office, a 10×10 storage unit is a great choice. When looking to store the contents of two bedrooms, an office space, or gain extra garage space for your cars, a 10×10 storage unit can accommodate all sorts of storing. Some commonly stored items include king size beds, couches, dining tables, large appliances, home electronics, lamps, large pianos, motorcycles, multiple boxes, and more. If you are wondering how many boxes fit in a 10×10 storage locker, you could stack approximately 144 medium sized boxes.
How much does a 10×10 Storage Unit Cost?
What goes into your storage unit cost? Our high-security, climate-controlled self-storage facilities offer a variety of unit sizes to ensure your storage needs are covered. Additionally, our facilities feature many amenities, such as a keyless lock system to access your unit from your phone or fob. To find a self-storage unit at a price that fits your budget, NationWide Self Storage has you covered.
We offer a range of similarly sized units, such as our 10×12 storage facility starting at $349 per month. This rental fee is just an estimate as rental costs depend on the length of rent, time of year, and current company promotions. For a custom quote on your first month's rent and full details on our self-storage features, the team at NationWide Self Storage are here to help. Give us a call at (604)-336-9594 to hear our unit availability and learn more about our self-storage units.
Convenient locations with a 10 by 10 storage size units
Are you trying to find self-storage facility that offers easy access, a convenient location, and is a great place to safely store small to large items? Consider renting 10×10 or 5×10 storage units. We have 3 locations for our self storage, choose the one that is closest to you to see our prices.