Simplify your life with
personal storage solutions
Smart spaces to lighten your load
Does it feel like your belongings are outgrowing your home? Do you keep your bike, skis, and sporting equipment piled up at your front entrance? You may want more space to transform DIY ideas into reality. No matter the issue, taking advantage of self-storage can give you room to breathe and unwind.
Whether you're moving homes, renovating, working from home, taking an extended vacation, or want to declutter your space, NationWide has storage solutions for you. Our climate-controlled units provide the security and functionality you need to streamline your home's efficiency. Keep family heirlooms, unused furniture, sporting equipment, seasonal items, and other personal items safe and organized in our storage units in Vancouver and Kamloops.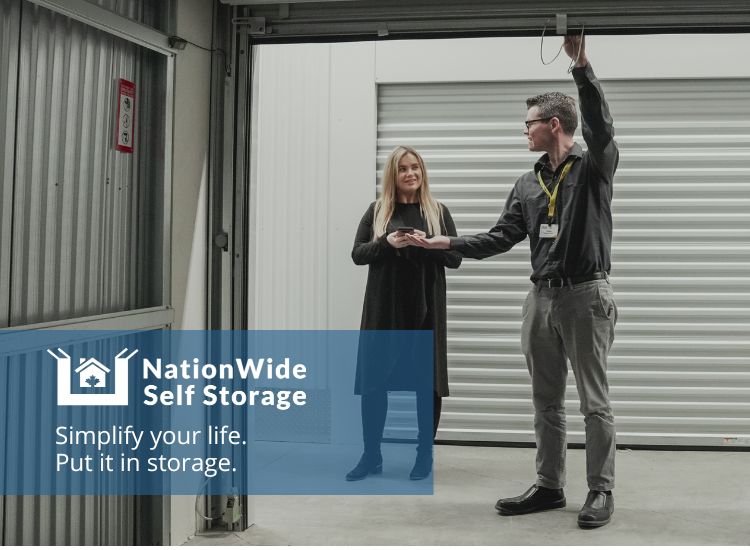 Benefits of Personal Self-Storage
Apart from the peace of mind safe and secure storage provides, storing with NationWide comes with the following benefits:
Extended Hours. We do better than the traditional 9 to 5. With our extended hours, you can access your belongings between 6am and 10pm or arrange for 24-hour access if needed.
Flexible. NationWide offers month-to-month storage in Vancouver and Kamloops. If your storage needs change, you can move to a bigger or smaller unit to accommodate your storage volume. We even have more cheaper self storage with our Sky Lockers (aka Mini Storage) that start as low as $69 per month.
Security. Our facilities are monitored 24/7 with over 70 CCTV surveillance cameras, on-site personnel, and our enterprise-level keyless smart access system.
Insurance. For an additional charge, insurance coverage is provided to protect your belongings while stored inside your self-storage unit.
Keyless Smart Access. All of our units are equipped with a state-of-the-art keyless locking system that is controlled through an app on your phone or with a fob. From the comfort of your phone, you will have simple and secure access, complete monitoring of who enters your unit and when, and can easily share access to your locker with friends and family.
Convenience. Need boxes and moving supplies to help with the packing? How about a drive-up loading bay and a dolly or cart to help transport your belongings from vehicle to unit? Our staff is here to help make your move as stress-free as possible.
Personal Storage can help you:
Storing belongings when moving, downsizing, or renovating
Organizing your home
Decluttering your home of unused items
Furniture storage
Seasonal storage of sporting equipment, decorations, clothing storage or tire storage
Keeping belongings safe when spending time away from home