Your business, inventory & commercial storage specialists
Streamline business and save on commerical rent
Are you looking for safe, convenient, and affordable self-storage in Vancouver, Burnaby, Surrey or Kamloops, for your business, commercial or retail space? Need document storage, inventory storage or more room in the office? With NationWide Self Storage, there's no reason you need to waste precious floor space or compromise the flow of your office or retail space by storing excess inventory, records and equipment in-house.
Instead, we can tailor a solution to meet your business storage needs, keeping your inventory, archived documents, and cumbersome office equipment and furniture safely stored in climate-controlled, secure commercial storage units in Vancouver, Burnaby, Surrey and Kamloops.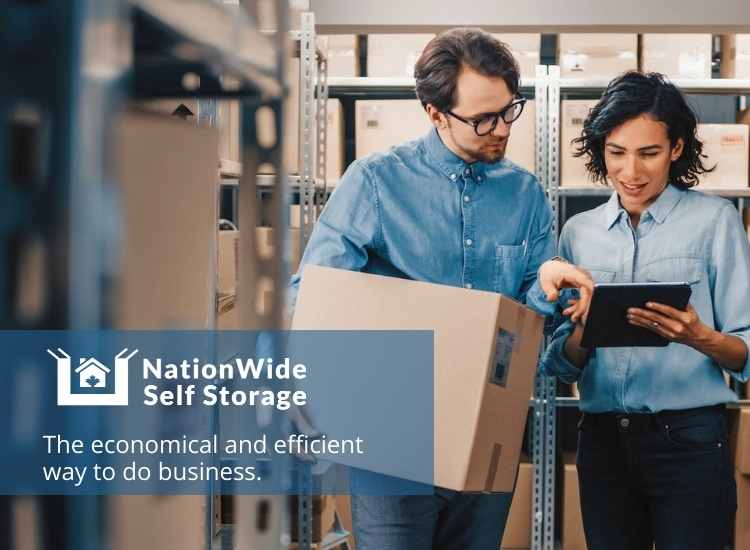 Benefits of business & inventory self-storage
NationWide's business and inventory storage are optimized for convenience, security, and simplicity. Some of the benefits of relying on NationWide for your business and retail storage include:
24-Hour Access Self Storage. Between 6am and 10pm, access your self-storage at a convenient time for you and your business. If you require 24-hour access for your employees, just ask one of our storage experts and we will set you up!
Flexible Month-to-Month Storage. It's okay if you don't know the extent of your storage needs. You can rent storage units in Vancouver, Burnaby, Surrey and Kamloops monthly, with the option to downsize or upgrade your unit to accommodate changes in your storage volume.
The Highest Level of Security. Our facilities are monitored 24/7 with over 70 CCTV surveillance cameras and an enterprise-level keyless locks to guarantee the safety of your belongings. We do not use keypads or padlocks that can be easily cut. NationWide utilizes SecurGuard™ wireless low-voltage locks that fit on the inside of locker doors and are invisible to potential thieves. This patented design makes it nearly impossible to puncture, break or disarm.
Insurance. To protect the contents of your self-storage unit, insurance coverage is provided to all tenants for a nominal charge.
Shareable Easy Keyless Smart Access. Want a secure, simplified, and shareable way to access your business storage? Grant employees, clients, and other personnel locker access through your smartphone or fob, from anywhere in the world and monitor when your locker is accessed. And you can revoke access when needed. No need to mess around with keys or codes, our state-of-the-art smart access system is as secure and convenient as it gets.
Courier package acceptance services. NationWide provides a complete package acceptance service. Our staff will accept your commercial courier deliveries and securely place them in your locker.
Call (778) 357 0700
Business storage in Vancouver, Burnaby, Surrey & Kamloops
Business & commercial storage can help:
Reduce your commercial property rental costs by minimizing commercial floor space you require to store inventory and office items.
Store excess stock, inventory, and documents, and archived paper records in a secure, climate-controlled space
Streamline your business by improving the organization of your workplace
Store stock closer to your markets to reduce transportation and delivery costs
Provide easy and secure access to approved personnel through keyless self-storage
NationWide can assist with custom shelving in your facility. Just tell us what configuration you want, and we can order and set it up for you before you move in.