The 5×10 Storage Unit
Whether you are moving out of your one-bedroom apartment or want to save space in your house or office, 5×10 storage units have the extra space you need.
This is a popular choice when it comes to storage unit size; it can comfortably store everything from a double to a queen to a king size bed, with room to spare for multiple boxes and additional small items. This is the right storage unit size if you're looking to store the entire contents of a studio apartment or bedroom, or if you need to declutter multi-bedroom homes.
A 5×10 storage unit will keep your belongings safe, dry, and ready to access at any time. From personal records to furniture to most motorcycles, a 5×10 storage unit is yours and available to rent.
Whether you are a small business owner storing files, a college student stashing your stuff for the summer, or you are a homeowner waiting on renovations to be completed, a 5×10 self-storage unit is the ideal space.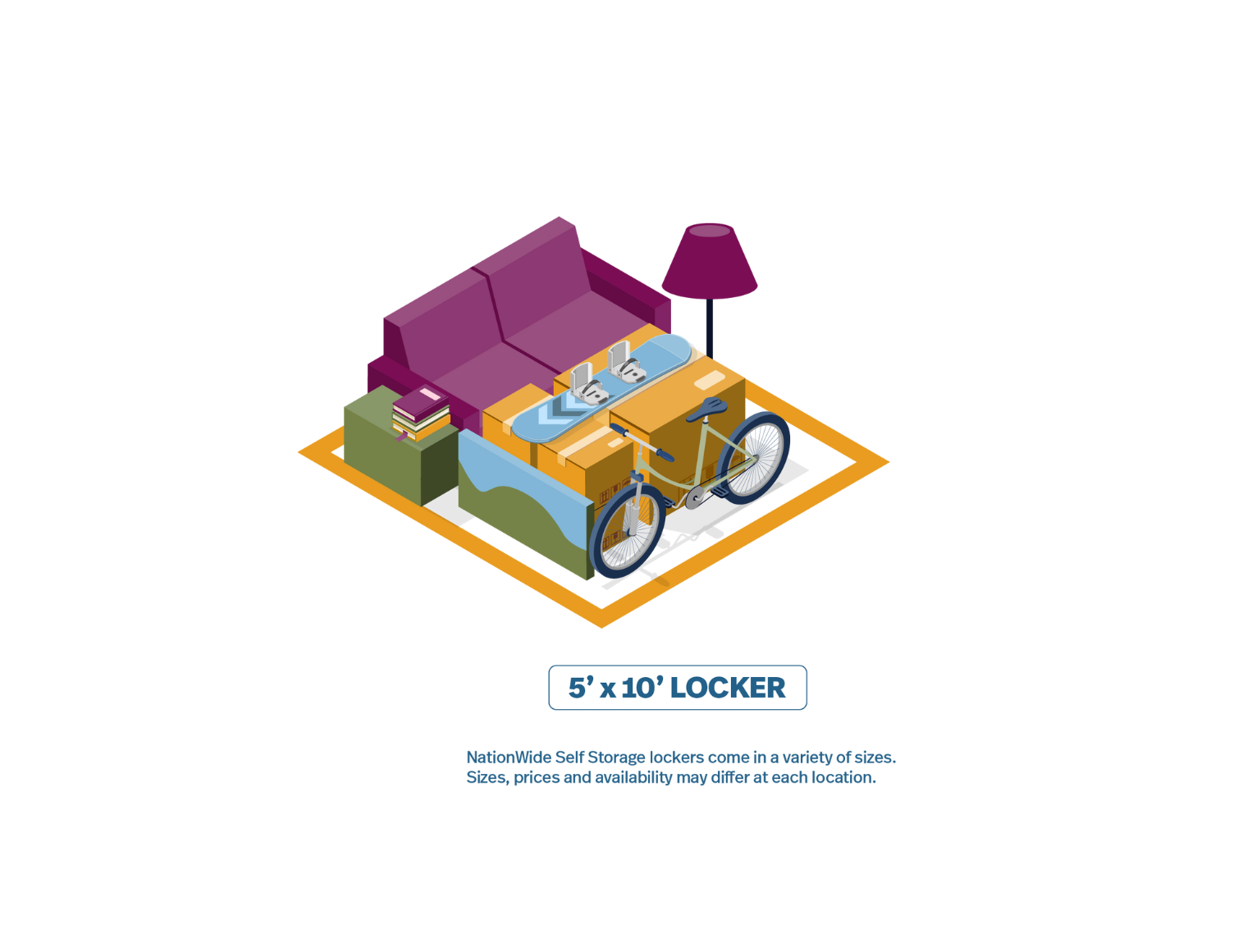 How big is a 5×10 storage space?
A 5×10 storage unit is approximately 50 square feet in total, measuring at 5 feet wide and 10 feet long. With 400 cubic feet of space, these storage units are about the size of a small bedroom or a large walk-in closet. This size storage unit can typically store a single room's worth of items, making it the ideal unit if you're looking to declutter your studio apartment. Or perhaps you're in the process of moving or remodelling a mid-sized bedroom. No matter your predicament, this is the best storage unit to keep your belongings safe and organized.
Wondering how many boxes fit into a 5×10 storage unit? If you're packing your belongings in several boxes, this unit can hold up to 20 large boxes. Just make sure to keep your heavier items at the bottom and stack the lighter ones on top. Whether you are storing fragile appliances, furniture such as chairs and dressers, or simply want to stack boxes filled with miscellaneous details, our 5×10 storage unit has the space for you. Need a pinch more room? We also have 10×10 self storage units and many other sizes.
What fits in the size 5×10 storage units?
A 5×10 storage unit has enough space to declutter any room. Whether you want to streamline your business and remove some out-of-use office appliances, or you're moving homes and need some extra space for packing and organizing, storage containers are the solution. A 5×10 storage unit can comfortably store a queen or king size bed, as well as a dresser, nightstand, sofa, lawn mowers, motorcycles, flat screen TV, bicycles, chairs, sporting equipment, and more. When looking for a place to store your bedroom belongings during a remodel or move, a 5×10 storage unit is the choice for you.
How much does a 5×10 storage facility cost?
The rental fee for a standard 5×10 storage unit starts around $235 per month and varies at each location. Other factors that determine the month's rent are things like the time of year, current promotions, and the amount of time the unit will be rented.
Our storage locker prices are not a secret. To find the locker prices at each location, start by searching for a NationWide Self Storage facility near you or feel free to call one of our storage experts at NationWide Self Storage for a quote (778) 357-0700.
Convenient locations with a 5 by 10 storage size unit
Are you trying to find self-storage facility that offers easy access, a convenient location, and is a great place to safely store small to large items? Consider renting 10×10 or 5×10 storage units. We have 3 locations for our self storage, choose the one that is closest to you: