July 21, 2020 | 3 minute read
The Benefits of Keyless Self Storage Access
NationWide Self Storage is Vancouver's first keyless self-storage. By integrating award-winning Noke smart security technology, NationWide offers a convenient and secure self-storage service. With intuitive management through our smartphone app, we lead the industry through innovation. At NationWide, we make storage simple so you have fewer things to worry about.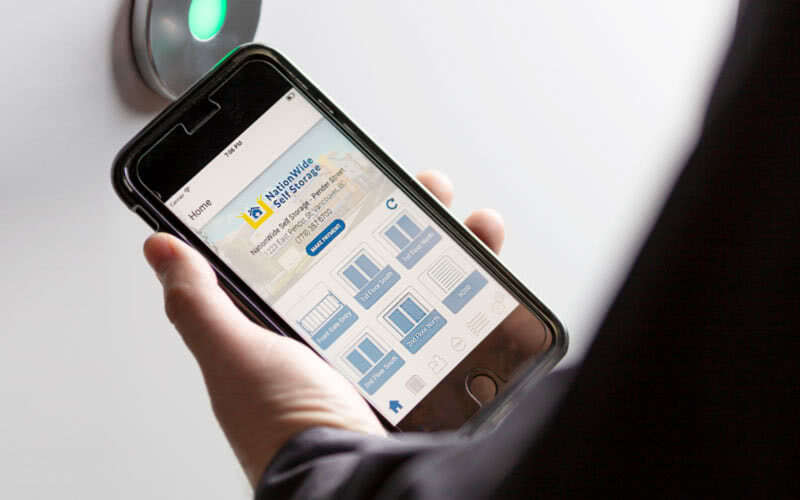 NationWide Self Storage is raising the bar for self-storage and our mission is to be the industry leader who integrates new technologies, creativity, and better-than-best practices. With that said, we are the first to offer Vancouver a keyless self-storage experience.
NationWide Storage's Smart Entry system is a state-of-the-art keyless system that allows you to access the facility and your locker with a phone app or a fob rather than a key or an access code. Our keyless locking system is integrated into every storage locker, eliminating even the need for padlocks! Here are a few of the benefits of our keyless Smart Entry system:
Convenience
We believe a great customer experience should come first, and our keyless Smart Entry system offers the most convenient self-storage experience. While all the other benefits ultimately come down to convenience and peace of mind—at NationWide, customers don't need physical keys or to remember a passcode.
We have even gotten rid of the faulty padlock—this eliminates the need to re-key and replace locks. Instead, our customers use our smartphone app to access their storage lockers! You can conveniently access everything on our smartphone app—from entering the premises, accessing the elevators, and unlocking your storage locker. No need to ask yourself where you left your keys or who had them last! Non-smartphone users can also use our Bluetooth-powered Noke fobs, which we also monitor and manage.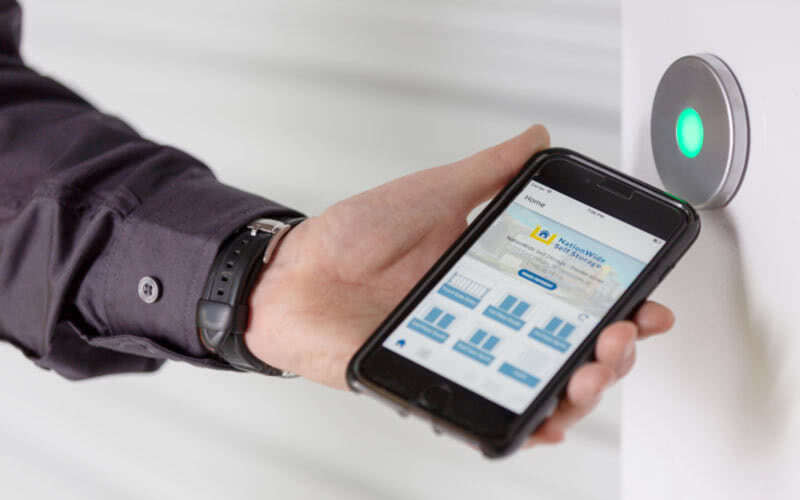 Peace of Mind
Facility-controlled gate and floor access systems protect all NationWide locations. This means customers only have access to floors where their locker is located. On top of the total security camera and thermal motion sensor coverage on each floor, our locking system is also completely wireless and tamperproof. If that doesn't deter the ill-intentioned, customers can further monitor all activity on our app and receive security alerts.
Have you ever worried about losing your house keys or someone breaking into your locker? There is essentially no lock to pick at Nationwide. Each storage locker integrates our keyless Smart Entry system. Our smartphone app (or fob) is the only way to open a NationWide storage locker—which is equipped with End-To-End Bluetooth Encryption. This is all thanks Noke, an award-winning smart security solution utilized in all our facilities.
Save on Time & Money
Did you know regular self-storage companies require everyone with access to your storage unit to be specified on your lease? Or that if you lose your key to your locker, you have to hire a locksmith and schedule a time with the company to remove and replace your lock? Most self-storage companies don't even keep spare keys to any unit for security reasons.
Just imagining these inconveniences inspired us to offer a better solution. Need to share or revoke access to your locker? Don't want to risk losing your keys? Easy key management is vital and our app will save you both time and money. At NationWide, we make storage simple so you have fewer things to worry about.
Popular Posts
The Ultimate Guide to Furniture Storage

Whether you're downsizing, moving, or simply in need of some extra space, furniture storage can be a lifesaver. Self-storage is a versatile, affordable, convenient option that can save you from living with furniture clutter and chaos. In this ultimate guide, you'll learn the ins and outs of furniture self-storage and gain a few tips and […]

Read More

7 Benefits of Summer Self Storage in Vancouver

Summer is the season that everyone in Vancouver and the Lower Mainland seems to embrace the most. The sun is out, the weather is dry, and people take advantage of outdoor adventures, vacations, and making memories in the beautiful natural playground that is our backyard. Summer also brings the need for additional storage space, especially for […]

Read More