July 23, 2020 | 4 minute read
How Self Storage Affects Small Businesses
The uncounted employment impact of Self Storage developments in Urban Centers.
One major issue always identified by municipalities and their planning departments when looking at new self-storage development projects is the lack of employment they provide to the community. Sometimes the argument is made that the same plot of land could be used to create far more jobs than a self-storage development would. In these arguments, the secondary employment that self-storages facilities help create is not usually taken into account. Below is an exploration of the different ways that a self-storage facility helps create employment in a community beyond just the staff and management present at the facility.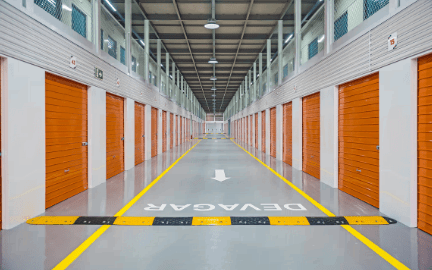 Small Business
In urban centers, small businesses can struggle to find suitable space to expand their businesses as they grow. This can limit the addition of new employees to a business and in turn, slow the growth of these businesses. Self-Storage can provide flexible solutions for these businesses to expand and therefore add staff at an earlier point by not having as many space limitations to contend with. Additionally, self-storage can provide flexible inventory solutions for small businesses during busy times. Inventory storage can allow seasonal businesses to be flexible and easily meet seasonal demands for products and thus being able to more readily add seasonal staffing as well.
Production
In urban centers, small scale production can have a great deal of difficulty finding suitable space for these activities. This will typically push these types of businesses into more rural areas thus moving employment from core areas to the suburbs and take away vital jobs from the Urban core. In some cases, certain types of production are not suitable for Self-Storage however there are many cases where production can operate easily within an existing storage facility thus allowing these jobs to remain within the Urban core adding good jobs to the area. In this way, self-storage can help stop the exodus of production businesses and their employment from downtown areas to the suburbs.
Distribution/E-Commerce
In urban centers, Light Industrial space is typically in short supply. This forces most distribution jobs to be based in surrounding areas where the warehouse and light industrial space is more readily available. This move will also move many of these jobs from the Urban centres to the areas that the warehouse space is available. This not only reduces employment within a city but also may increase the volume of traffic as trucks are forced to commute from outside of the city and then back out again after making all of their stops in a day rather than starting and stopping in the city. Additionally, with the increased prevalence of e-commerce businesses, Self-storage would allow these companies to be based within the Urban centers while using the Self-Storage facility for distribution to local and other customers.
Repair
In Urban centers, space for repair operation, tradespeople and parts storage are always at a premium. Self-Storage can help keep these businesses and jobs in the Urban center. It is very difficult for many onsite repair businesses to store needed parts and tools in the downtown core of a city due to the lack of available commercial space that is also affordable. As such, self-storage can provide this space to help keep these businesses viable. Additionally, if there is the ability to base these trades and repair services in the city, this may help keep these jobs also based in the city as it will be much easier for employees to get to where they start their day if they don't have to commute to a warehouse or repair shop outside the city and then back into the city to start work. In this way, self-storage can help repair services be more efficient when based within the Urban center rather than outside the city and also help to reduce traffic congestion in the urban core.
Employment impacts of Self-Storage Facilities in large cities can be very large and go far beyond the local facility employment. As density increases and light industrial space becomes even more scarce than it is today, self-storage facilities will be able to play a crucial role in both keeping existing employment and also driving new employment in urban centers in ways that no other developments can.
Popular Posts
The Ultimate Guide to Furniture Storage

Whether you're downsizing, moving, or simply in need of some extra space, furniture storage can be a lifesaver. Self-storage is a versatile, affordable, convenient option that can save you from living with furniture clutter and chaos. In this ultimate guide, you'll learn the ins and outs of furniture self-storage and gain a few tips and […]

Read More

7 Benefits of Summer Self Storage in Vancouver

Summer is the season that everyone in Vancouver and the Lower Mainland seems to embrace the most. The sun is out, the weather is dry, and people take advantage of outdoor adventures, vacations, and making memories in the beautiful natural playground that is our backyard. Summer also brings the need for additional storage space, especially for […]

Read More