East Pender Updated Assessment, 2018
We are pleased to inform you that we recently commissioned Canadian Self Storage Valuation Services Inc. ("CSSVS") to perform an updated appraisal of the property located at 1223 E Pender Street, Vancouver BC.
The Appraisal is on an 'As Proposed Basis' which means if the Self-Storage Building was built 'As Proposed' and was an active business with industry normal rental rates and occupancy (as well as other assumptions) as at March 9th, 2018, it would have a market value of $29,750,000(1).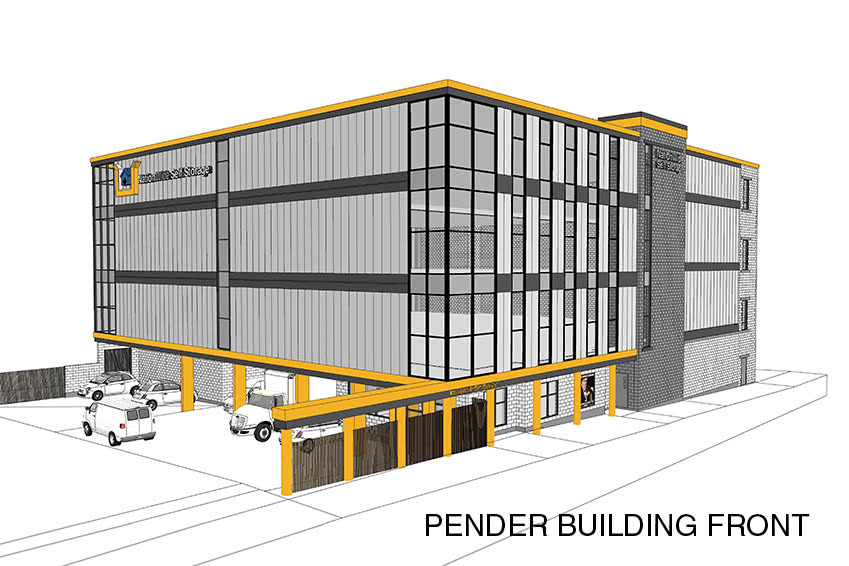 Please see cover page of the CSSVS Appraisal. This appraisal is in-line with our original assumptions.
The NationWide Self Storage Trust ("NWSS-I") offering closed on April 28, 2017, raising $16,717,204 in total. Based on the number of Trust Units currently issued, NWSS-I would thereby have a NAV per Trust Unit on an 'As Proposed' basis of $190.85 per Trust Unit as at March 9th, 2018.
This assessment assumes that construction of the building as proposed is 100% completed as at March 9th, 2018.
A detailed description, summary and analysis leading to the conclusion of appraised value is included in the full CSSVS Appraisal and is available upon request.
About Canadian Self Storage Valuation Services
D.R. Coell & Associates acquired Canadian Self Storage Valuation Services Inc. in August of 2013.
CSSVS is a Vancouver and Victoria based firm providing professional real estate valuation, consulting and advisory services to a broad base of self storage clients in both the private and public sectors. The firm was founded in 2005 and has grown into one of Western Canada's most renowned leaders in today's self storage real estate industry.
CSSVS, is comprised of real estate appraisers who specialize in the valuation of self storage properties on individual and portfolio property levels. Self storage properties are typically considered to be a more complex property type due to the fact that they are valued on a going concern basis. This type of valuation relies not only upon an expert level understanding of valuation methodology, but upon a complete understanding of self storage operations and market trends.
Each of their credentialed professionals are respected by industry participants, including property owners, commercial lenders, insurance providers, and government bodies, for their in depth knowledge of the self storage market.
CSSVS has extensive experience in the valuation of major assets for Canadian public companies, REITs, pension funds and advisors. They also have a long track record in reporting for International Financial Reporting Standards (IFRS) and have acted as advisors for IFRS valuations and benchmarking for multiple self storage property portfolios in Canada.
---
(1) Does not include targeted annual cash distributions paid to investors once the property achieves a reasonable level of occupancy or any debt financing that may be required to complete construction or any debt financing utilized through refinancing strategies (to return capital to investors) once at mature occupancy. The property is currently under construction and anticipated to be completed in early Q1 2019.
The information provided is general in nature and is provided with the understanding that it may not be considered tax, legal, accounting or professional advice. There can be no assurance that investments will perform as forecasted or be of the quality anticipated. There are tax risks associated with an investment. The content of this page is for information only and does not constitute an offer to sell or an advertisement, solicitation, or recommendation to buy securities. Nothing on these pages constitutes investment, legal or tax advice, nor was it prepared in consideration of the investment objectives, financial situation, particular needs or any specific recipient. Qualified investors should read the relevant Offering Memorandum carefully and consult with their tax and investment advisors before making an investment decision.