Industry statistics show that the U.S. has an average of nine square feet of storage for every person in the country, while Canada is closer to just two square feet per capita — not nearly enough, according to those building more storage capacity.
​You might think self-storage is one of the most boring businesses on the planet — if you've ever bothered to give it a thought. But guess again. A number of Canadian companies are investing big bucks to offer new, creative services that are transforming the industry.
E-commerce startups that offer pickup and delivery at the click of a mouse, new developments that surround storage units with condos and retail, and even wine storage with sommelier classes are just some of the latest offerings.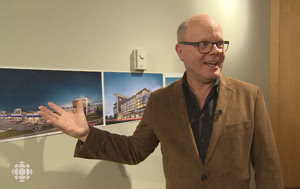 But Dymon [Self Storage, an Ottawa-based company] is just one of several companies looking to cash in on what's being described as a boom in Canada's storage industry.
"It's very exciting," says Stephen Creighton. "The self-storage industry is very, very robust right now."
Dymon intends to open a whopping 80 new locations in and around Toronto. It's also considering a national expansion, to roll out in stages. The company is currently building what Creighton says will be the biggest storage facility in Canada — 500,000 climate-controlled square feet covering about 3.6 hectares in Toronto's west end. The wine storage area will also feature a lounge for tastings.
"Very high-end, there's nothing like it really," says Creighton.
Everything is getting smaller
Second Closet is an online storage startup where customers use a website to schedule a pickup so their belongings can be stored at the company's warehouse. Another online booking brings their stuff back when it's needed.
The founder, 22-year-old Mark Ang of Toronto, was inspired to start the business because of his own need for storage. "My brother and I had moved out, and we had a very tiny condo. I honestly just needed a second closet,"  Ang said.
"Everything from airline seats to condos are getting smaller," Ang said when asked why storage is seeing such growth right now. "I think as people continue to live their lives, they accumulate things that they cherish, and they just need a place to put them."
Population growth a driving force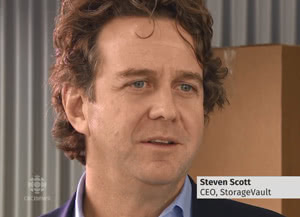 Population growth is a driver, but so are smaller living spaces and people's simple attachment to their stuff.
Perhaps the most active company in the Canadian industry is Storage Vault, the only Canadian storage firm listed on the TSX Venture Exchange. CEO Steven Scott believes the surge in the industry is due to population growth, and he clearly sees huge potential. Storage Vault has spent $800 million over the past two years, buying up more than 100 of its competitors' facilities coast to coast.
CBC NEWS | Dianne Buckner | March 21, 2018 | Read complete article via the CBC News site or download article as a printable PDF.